Now that these have gone out I had to share with the rest of you how the shutterfly photos turned out. I ended up saving ove $100 with the sale they had going on and the $75 worth of free cards they gifted me for blogging about their holiday cards.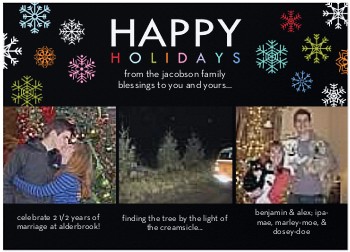 Mod Snowflakes Story Christmas Card
Pretty cool and we were really pleased with how the turned out. A reflection of us and our values!
Merry Christmas from The Jacobsons!
We hope you are inspired this holiday season…